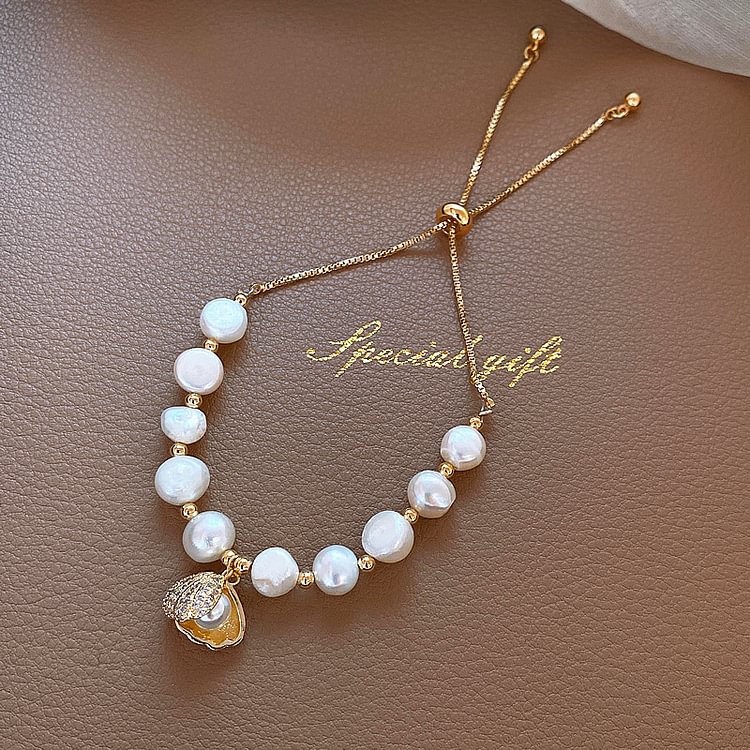 Bracelets are one the most popular jewelry for women. Wearing the right bracelets can enhance your look. There have been many materials used to make bracelets. The most commonly used are pearl and opal.
A Pearl bracelet can offer a luxurious touch. There's something so effortlessly chic about the glimmer of cream-colored pearls peeking out from under the cuff of a sleeve, or catching the light as you nonchalantly reach up to brush your hair from your eyes.
Features
The Shell Pearl Bracelet is made from natural freshwaterpearls.Every pearl is handpicked and the bracelet is lovinglycrafted by hand.

Harmonizing with the color of the year, this Shell Pearl Bracelet usesa divine combination of soft Pearls and Plated Gold beading to create a unique and pronounced pairing.

Shell Pearl Bracelet is a delicate feminine design that is the perfectbalance of softness and strength. This Bracelet would makethe perfect complement to any outfit.

This beautiful bracelet is a perfect gift for a lovedone or friend or those who love seashells, are fans of the beach,mermaids, or ocean.or simply to add a touch of glamour to yourown wrist. This timeless accessory will sure last a lifetime.
Specifications
Item Type: Shell Pearl Bracelet

Gender: Women

Material: Natural Pearl, Opal and Plated Gold Beading

Length: Adjustable

Jewellery Gift For: Mom, Lovers, Sister, Girlfriend, Wife, Daughter

Occasions: Everyday / Party/ Engagements / Wedding / Anniversary
Package Includes
1 x Gold Plated Opal Baroque Pearl Bracelet
Do not wear jewelry during sleep, while bathing, while washing dishes, or during any activities that may come in contact with water, detergents, chlorine, or other chemicals.
We also recommend that you avoid contact of jewelry with cosmetics (perfume, deodorant, cosmetic creams, makeup products).
Stones, crystals or jewelry applications can peel off, damage, scratch, etc. if used in these conditions.