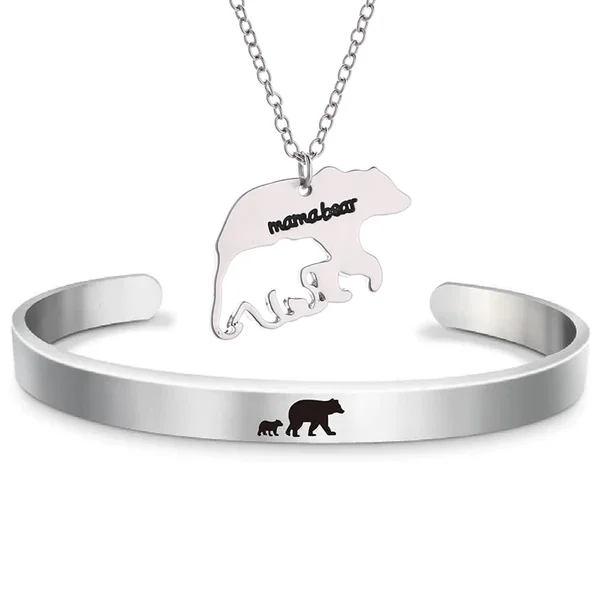 A MOTHER'S LOVE IS NOT JUST POWERFUL, IT'S PROTECTION.
Mother bears are very protective of their children's and will do anything for their cubs until they're all grown up. The mother bears will fight anything if it gets near her cub. So when someone says, "I'm going all mamma bear." It means that they're going to fight someone and protect someone from something. If you describe a mom it means that they're loving and caring of their own children you could call her 'mama bear'.
When we met something bad, mothers always stand up and protect us first. So the bracelet engraved shape of cute MAMA Bear may be a perfect gift for mom!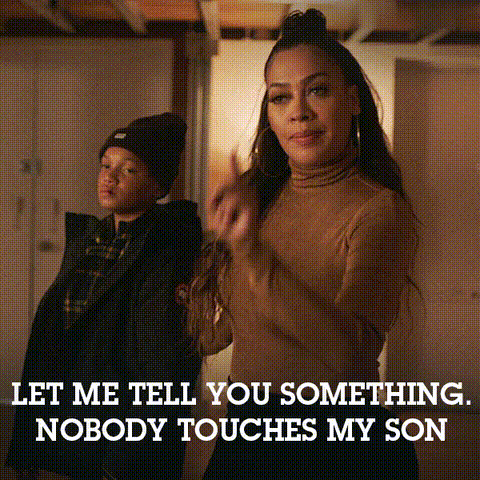 FEATURES:
Best mother's day gift: Mom is always there when I need her, just like the mama bear who protects her cubs with all that she's got. Best jewelry gift for our mother, grandmother, or who is important in your life.
This Mama-baby bear bracelet is perfect for the Mama Bear in your life, or for any new mom! Show her just how special she is! You can choose your bracelet with a number of bear cubs from 1 to 6 that representing the number of kids.

Material - Made of 316L stainless steel, stronger and more durable, will never fade, tarnish, corrode, stain, or cause allergic responses. Nickel free, 100% in harmony with the wrist.

Ideal gift: A perfect gift for her, mom, wife, sister, daughter, granddaughter, aunt, or friends. Suitable for Mother's Day, Christmas, birthday, New Year, prom, anniversary, party, or any special occasions.
SPECIFICATIONS:
Material: 316L stainless steel

Color: Silver

Necklace Chain Length: 42cm / 16.53in

Necklace Extension Chain Length: 5cm / 1.96in

Necklace Pendant Size: 1.5*2.7cm / 0.59*1.06in
Bracelet 

Diameter: 6.35cm / 2.5", adjustable
Hello, jewelry lovers! As a jewelry expert, I often get asked how to keep jewelry in tip-top shape. Taking care of your jewelry is essential to ensure it lasts for years to come. So, whether you are a collector, a fashion enthusiast, or just starting to build your jewelry collection, here are some tips on how to care for your jewelry in your daily life.
Store your jewelry properly
Storing your jewelry correctly is the first step in protecting it. Always keep your jewelry in a dry place, preferably in a jewelry box or a soft cloth pouch to prevent it from getting tangled or damaged. It is essential to keep your jewelry away from direct sunlight and heat, as this can cause discoloration and damage.
Clean your jewelry regularly
To keep your jewelry looking its best, it is essential to clean it regularly. Depending on the type of jewelry, you can use a soft cloth, warm water, and mild soap to gently clean your jewelry. Avoid using harsh chemicals or abrasive materials that can damage your jewelry. Also, be sure to dry your jewelry completely after cleaning it to prevent moisture from causing any damage.
Avoid wearing jewelry during activities
While it's tempting to wear your favorite jewelry all the time, it's essential to take it off during certain activities. For instance, swimming, working out, and doing household chores can expose your jewelry to harsh chemicals, sweat, and dirt, which can damage it. It is advisable to remove your jewelry before engaging in these activities to protect it.
Handle your jewelry with care
When wearing or taking off your jewelry, handle it with care to prevent any accidental damage. Avoid tugging or pulling at your jewelry, especially when it's tangled. If you need to untangle your jewelry, use a soft cloth or your fingers to gently separate the pieces.
Get your jewelry inspected and serviced regularly
Finally, it's crucial to have your jewelry inspected and serviced regularly by a professional jeweler. A professional jeweler can help identify any potential problems, such as loose stones or worn-out prongs, and fix them before they become more significant issues.
In conclusion, taking care of your jewelry doesn't have to be complicated or time-consuming. By following these simple tips, you can keep your jewelry looking its best and protect it for years to come. Remember to store your jewelry properly, clean it regularly, avoid wearing it during activities, handle it with care, and get it inspected and serviced regularly. By doing so, you can enjoy your jewelry for many years to come. Happy accessorizing!