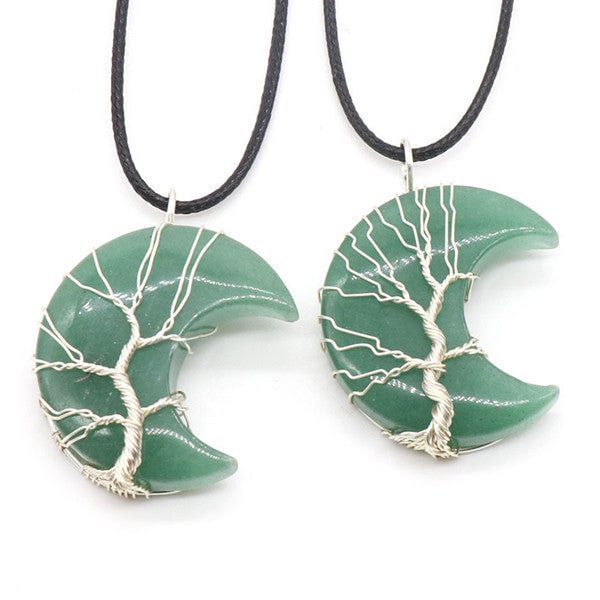 Moon crystal pendant necklace is made of crushed crystal stone and natural resin. The tree of life is wound into a perfect shape. Has a natural energy healing effect, it can help you feel calm and relaxed, concentrate, keep your mind clear, and make your mind clear. It is the perfect gift for family, friends or any holiday. Its torso represents wisdom, bravery, prosperity, wealth, peace, vitality, and redemption.
The Tree of Life symbolizes many things, including wisdom, protection, strength, bounty, beauty, and redemption. This necklace is a true statement piece while having all the natural spiritual benefits.
Choose from a range of crystals:
Amethyst: Amethyst is a powerful and protective stone. It guards against psychic attack, transmuting the energy into love and protecting the wearer from all types of harm, including geopathic or electromagnetic stress and ill wishes from others. Amethyst is a natural tranquiliser, it relieves stress and strain, soothes irritability, balances mood swings, dispels anger, rage, fear and anxiety.

Rose Quartz: The Rose Quartz stone is strongly attached to both the heart chakra and the throat chakra. But it's not a stone that simply rests in romance. Rose Quartz speaks softly to all kinds of love; from healing communication with family to developing a deeper bond with spouses and friends, and even bringing sweeter notes of self-care into your own world.

Aventurine: Aventurine is a stone of prosperity. It reinforces leadership qualities and decisiveness. Promotes compassion and empathy. Encourages perseverance. Aventurine relieves stammers and severe neuroses. It stabilises one's state of mind, stimulates perception and enhances creativity. Aids in seeing alternatives and possibilities. Calms anger and irritation. Promotes feelings of well-being. Aventurine balances male-female energy. It encourages regeneration of the heart. Protects against environmental pollution.

Clear Quartz: Clear Quartz is known as the "master healer" and will amplify energy and thought, as well as the effect of other crystals. It absorbs, stores, releases and regulates energy. Clear Quartz draws off negative energy of all kinds, neutralising background radiation, including electromagnetic smog or petrochemical emanations. It balances and revitalises the physical, mental, emotional and spiritual planes. Cleanses and enhances the organs and subtle bodies and acts as a deep soul cleanser, connecting the physical dimension with the mind.

Opal: Opal is most known for its ability to bring one's traits and characteristics to the surface for examination and transformation. Just as Opal absorbs and reflects light, it picks up thoughts and feelings, desires and buried emotions, amplifying them and returning them to the source. While magnifying one's negative attributes may prove to be uncomfortable, it allows for understanding how destructive these emotions can be and assists the process of letting them go.

Obsidian: Obsidian means Self control, decision making, intuition, protection. It is widely believed that black onyx can change your habits are erratic, either when used with faith. It is regarding as one powerful protection stone as it absorbs negative energy of people to release mental stress and promote emotional well-being.
SPECIFICATIONS
Features: moon, hope, unique
Item Type: Necklace
Material: Crystal
Color: As shown
Weight: 0.0243~0.0331lbs
Pendant Size: 36mm * 31mm / 1.42in * 1.22in
NOTE: Items are handmade, please allow for very minor variations, and the colors may vary from screen to screen.
Do not wear jewelry during sleep, while bathing, while washing dishes, or during any activities that may come in contact with water, detergents, chlorine, or other chemicals.
We also recommend that you avoid contact of jewelry with cosmetics (perfume, deodorant, cosmetic creams, makeup products).
Stones, crystals or jewelry applications can peel off, damage, scratch, etc. if used in these conditions.